Embrace the frosty charm of winter with our delightful Winter Snow Fiesta Penguin themed PDF birthday and baby shower invitation templates! These whimsical designs capture the magic of the season, featuring adorable penguins frolicking in a snowy wonderland.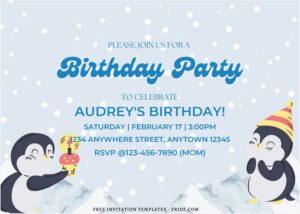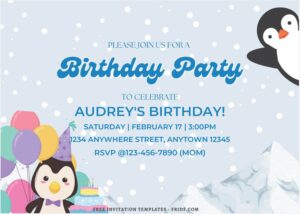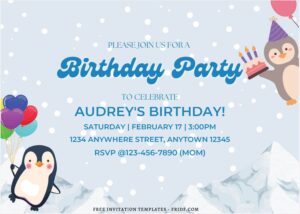 Imagine hosting a celebration that combines the festive spirit of winter with the playful antics of these charming penguins. The invitation templates showcase a lively scene of penguins donned in party hats, surrounded by snowflakes and festive elements, creating a cheerful and inviting atmosphere for your upcoming birthday or baby shower.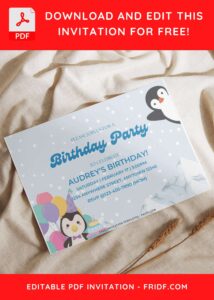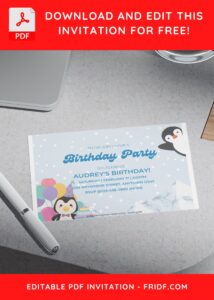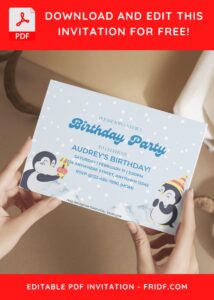 The cool and wintry color palette, with shades of blue, white, and hints of festive red, adds a touch of elegance to the invitations. The templates provide a perfect balance between the joy of a fiesta celebration and the serene beauty of winter landscapes.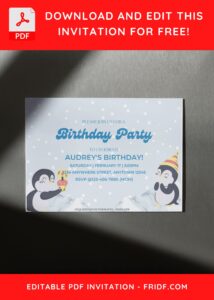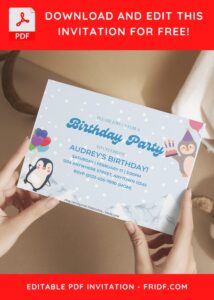 Whether you're planning a birthday bash for your little one or a baby shower to welcome a new arrival, these Winter Snow Fiesta Penguin themed invitations set the tone for a delightful and memorable event. The charming penguins bring a sense of lighthearted fun to the design, making them a perfect choice for a winter celebration filled with warmth and joy.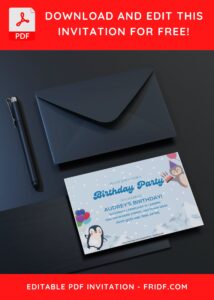 DOWNLOAD FREE EDITABLE PDF INVITATION HERE
Easily customizable and available in PDF format, these invitation templates offer a hassle-free way to create invitations that reflect the unique theme of your winter fiesta celebration. Let the Winter Snow Fiesta Penguin theme transform your event into a winter wonderland filled with festive cheer!
Download Information
This following instruction will show you how to download and open the template. Here they are:
Scroll-up a bit and you should see the provided link that says "Download Free … Invitation here", point your mouse pointer there and click it.
Click "Download" and Tap "Enter" to start the download process.
Edit the file using Adobe Reader or Foxit Reader or any PDF editor.