With our adorable Kitten Halloween Bash themed PDF birthday invitation templates, you can take a purr-fectly delightful trip into the world of feline fun! These aren't your typical invitations; instead, they add a fun twist with adorable kittens decked up in adorable and eerie costumes, such as tiny Dracula capes, mummy wraps, and other spook-tacular attire.
Imagine your little one's excitement as they receive an invitation adorned with these adorable kittens ready for a Halloween celebration. Each kitten is playfully dressed in a different costume, bringing a unique and charming touch to the overall design. From the cutest Dracula with tiny fangs to a mummy wrapped in spooky style, these feline friends are set to steal the show at your Halloween birthday bash.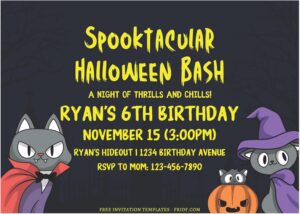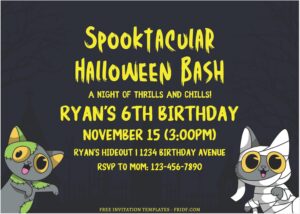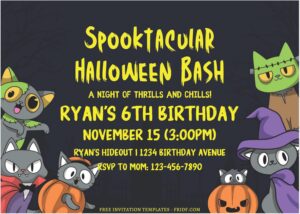 The whimsical and playful nature of these kitten-themed invitations adds a delightful touch to the spooky season. Your guests will be enchanted by the creativity and adorableness that these invitations exude. The variety of costumes and the charming expressions on the kittens' faces make these invitations a standout choice for a Halloween birthday celebration.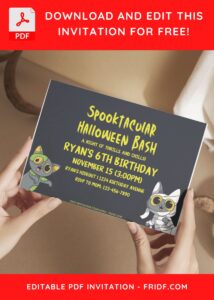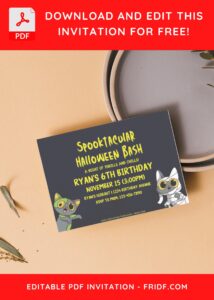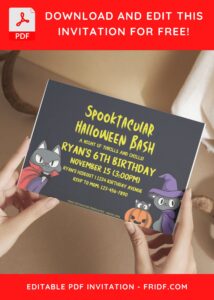 Not only do these templates capture the essence of Halloween with their playful and spooky themes, but they also provide a unique and memorable way to invite guests to your little one's special day. Get ready to infuse your celebration with a dose of adorable feline charm, making your Halloween birthday bash an event to remember!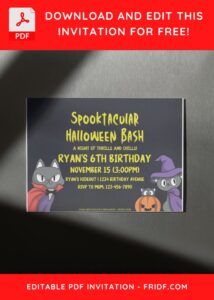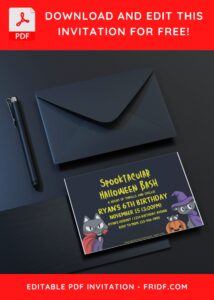 Have you made up your choice?
If you already had something in your mind, then the next step would be downloading our template to your device. To download our template, isn't that hard, by the way, you just need to follow this guide:
Download Information
This following instruction will show you how to download and open the template. Here they are:
Scroll-up a bit and you should see the provided link that says "Download Free … Invitation here", point your mouse pointer there and click it.
Click "Download" and Tap "Enter" to start the download process.
Edit the file using Adobe Reader or Foxit Reader or any PDF editor.