Transform your little one's birthday celebration into a prehistoric adventure with our charming Greenery Jungle Colorful Dinosaur themed PDF birthday invitation templates. These adorable designs bring the magic of the dinosaur era to life, creating a playful and vibrant atmosphere for the party.
Imagine a lush jungle setting filled with vibrant greenery, and now add a pop of color with friendly and animated dinosaurs. These templates capture the essence of a prehistoric world, making them perfect for any young dino enthusiast. From the towering T-Rex to the gentle Triceratops, each dinosaur is depicted with a delightful touch that is sure to captivate the imagination of the birthday child and guests alike.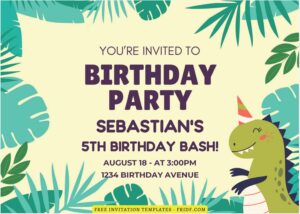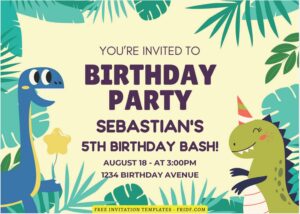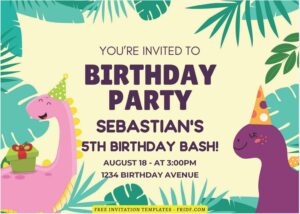 The invitations feature editable text fields, allowing you to personalize the details of the celebration effortlessly. Whether you're planning a Jurassic Park-themed extravaganza or a more intimate gathering with close friends and family, these templates cater to various party styles. The incorporation of watercolor elements and lively colors adds a whimsical charm, ensuring that your invitations stand out with a delightful and eye-catching allure.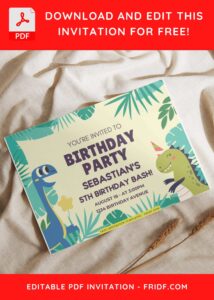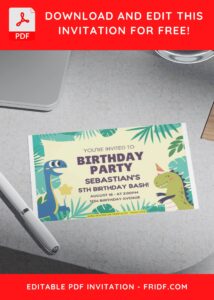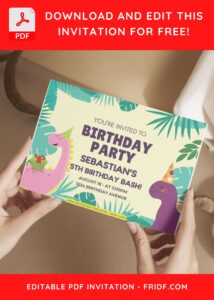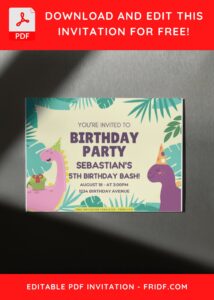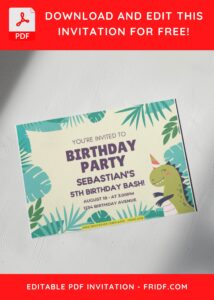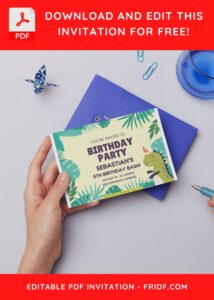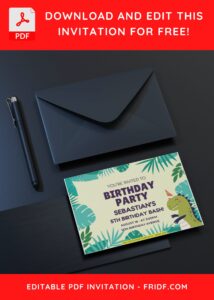 DOWNLOAD FREE EDITABLE PDF INVITATION HERE
To access these Greenery Jungle Colorful Dinosaur themed invitations, simply choose your favorite design, download the template, and customize the details according to your preferences. These invitations not only set the stage for a memorable birthday bash but also serve as charming keepsakes for both the birthday child and the attendees. Get ready to embark on a Jurassic journey filled with laughter, excitement, and adorable dinosaurs!
Download Information
Follow this instruction to download our templates:
Scroll-up a bit and you should see the provided link that says "Download Free … Invitation here", point your mouse pointer there and click it.
You are going to see Microsoft Onedrive Page in a mere second and now you can download the file by clicking the download button or drop-down arrow (Almost on the top right of your display)
Tap "Enter" to start the download process.
Edit the file using Adobe Reader or Foxit Reader or any PDF editor.