Celebrate your special day with a touch of glamour and festivity using our Sparkling Gold Balloon-themed PDF Birthday Invitation Templates. This collection is designed to add a dazzling and celebratory element to your invitations, making your birthday party truly shine.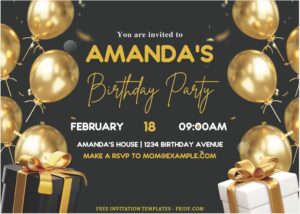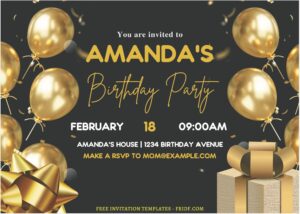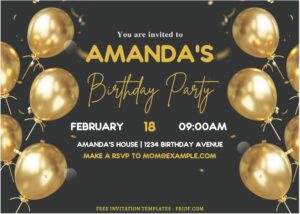 The templates feature a stunning gold balloon theme, creating an atmosphere of elegance and jubilation. Gold balloons are synonymous with celebrations and add a glamorous touch to any event. In this collection, you'll find a variety of designs, each showcasing intricate and sparkling details that capture the essence of a joyous occasion.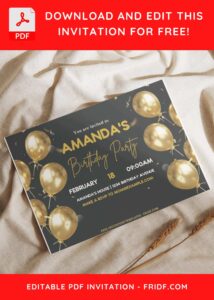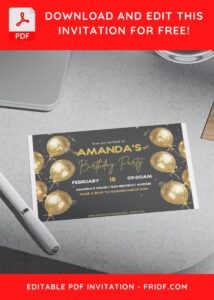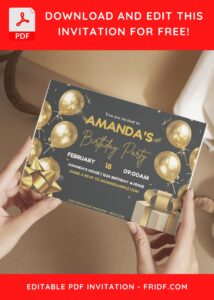 The use of gold foil texture and vibrant colors creates a luxurious and celebratory vibe. The balloons are artfully arranged to form captivating designs, and the addition of sparkles enhances the overall festive feel. Whether you're planning a milestone birthday, a glamorous soirée, or an intimate gathering, these templates cater to a range of birthday celebrations.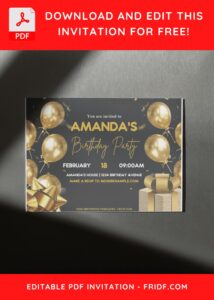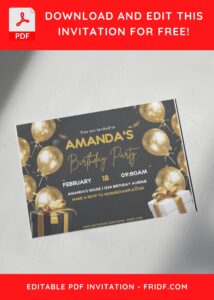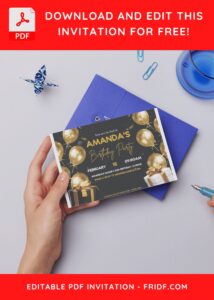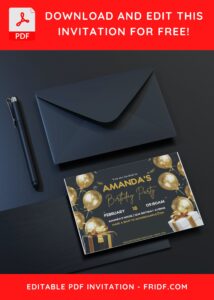 DOWNLOAD FREE EDITABLE PDF INVITATION HERE
One of the key features of these templates is their versatility. The designs are suitable for both formal and casual birthday parties, and you have the flexibility to customize the text according to your specific event details. The templates are user-friendly, allowing you to add your personalized touch effortlessly.
With our Sparkling Gold Balloon-themed PDF Birthday Invitation Templates, you can set the tone for a memorable celebration that your guests will be excited to attend. Make your birthday invitations stand out and sparkle with these glamorous and festive designs.
Download Information
This following instruction will show you how to download and open the template. Here they are:
Scroll-up a bit and you should see the provided link that says "Download Free … Invitation here", point your mouse pointer there and click it.
Click "Download" and Tap "Enter" to start the download process.
Edit the file using Adobe Reader or Foxit Reader or any PDF editor.
If you choose to send out the invites digitally, like using social media platform, it'd be much easier for you to do that. Since the file comes in PDF file-format, you can even download or edit the template file in your smartphone, insert your text onto the template and send it to your guest through Twitter, Facebook, Instagram and other type of social media platform you had.