Imagine boarding a spacecraft, breaking through Earth's atmospheric layers, and venturing into the vast expanse of outer space, a realm brimming with knowledge and discovery. Picture a galaxy like the Milky Way, teeming with planets, stars, meteorites, and mysterious floating objects. For enthusiasts of fiction, space adventures promise thrilling escapades and encounters with extraterrestrial beings.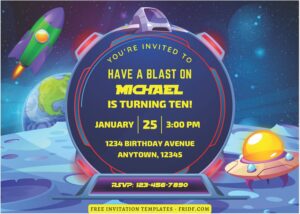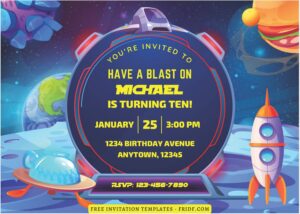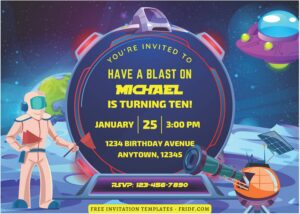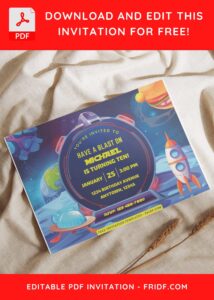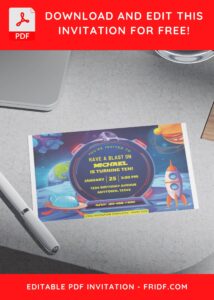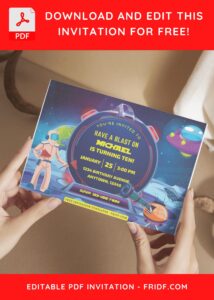 Bring this cosmic fascination to life through invitations adorned with a dark, sparkling space sky adorned with stars. Decorative elements like planets and friendly astronaut figures add charm to your space-themed invitation, making it a perfect fit for children's birthday celebrations. Simply select your preferred design, download the chosen invitation, and infuse it with party details using your creative touch. Best of luck with hosting your own captivating outer space party!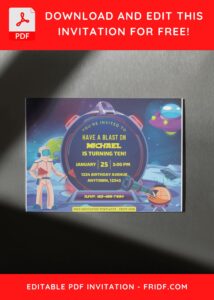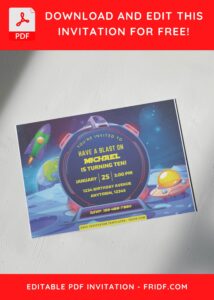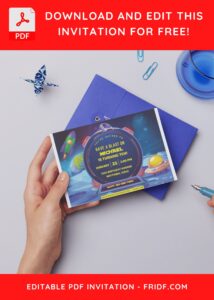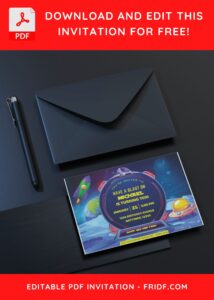 DOWNLOAD FREE EDITABLE PDF INVITATION HERE
Download Information
This following instruction will show you how to download and open the template. Here they are:
Scroll-up a bit and you should see the provided link that says "Download Free … Invitation here", point your mouse pointer there and click it.
Click "Download" and Tap "Enter" to start the download process.
Edit the file using Adobe Reader or Foxit Reader or any PDF editor.
Additional Information
Okay. You have seen it right? What do you think about these one, folks? Hope you enjoyed by how it looks and now you've got one of your job finished. Then you can start to browse and prepare all the material, like these following items,
Printing Paper: Card-stock, or Linen, Kraft, or other type of papers.
Wisely choose the printing paper, which one is suitable with your needs as well as your budget.
Party Decoration items: Like Curtain, Table Cloth, Balloons, Cups, Plates and many more.