Dive into a summer beach birthday bash with the vibrant and adventurous spirit of Dora the Explorer and Diego! Our specially crafted PDF birthday invitation templates bring the sunny beaches and the excitement of exploration right to your celebration.
The two-tone design of the background creates a beachy ambiance, perfectly setting the stage for a summer extravaganza. The cute and lively illustrations of Dora and Diego add a playful touch, promising a celebration filled with joy and adventure. Whether you're planning a beach party or simply want to capture the essence of a tropical getaway, these templates are the ideal choice.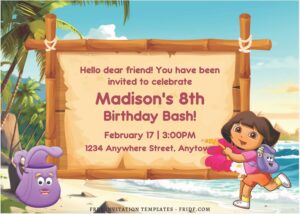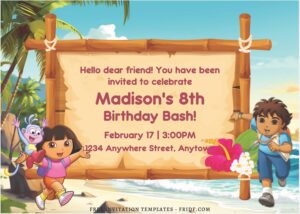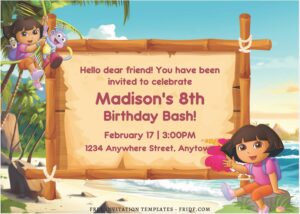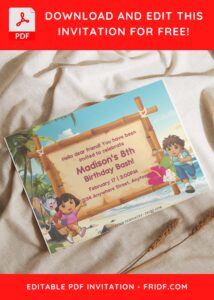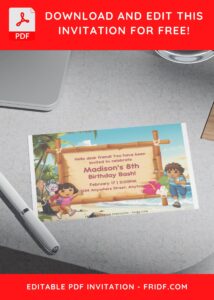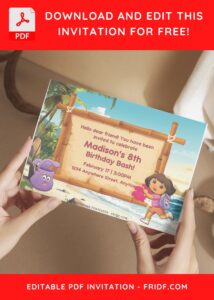 Editable text fields make it a breeze to customize the invitations with all the essential party details. The charming rounded-rectangle text box provides a visually appealing space to showcase your personalized message, ensuring that your invitations are not only adorable but also informative.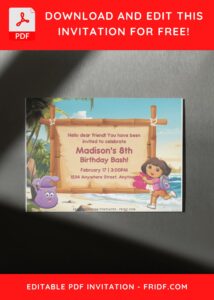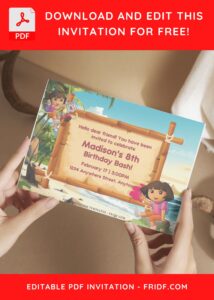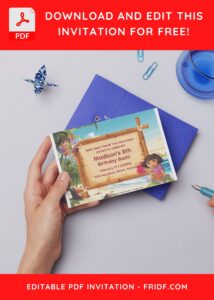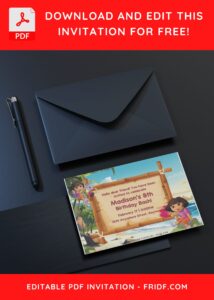 DOWNLOAD FREE EDITABLE PDF INVITATION HERE
These templates offer more than just an invitation; they provide a glimpse into the world of Dora and Diego, making them perfect for young explorers and adventure enthusiasts. Download, personalize, and get ready for a summer beach birthday bash that promises fun, laughter, and memories to last a lifetime. Let the adventure begin!
Have you made up your choice?
If you already had something in your mind, then the next step would be downloading our template to your device. To download our template, isn't that hard, by the way, you just need to follow this guide:
Download Information
This following instruction will show you how to download and open the template. Here they are:
Scroll-up a bit and you should see the provided link that says "Download Free … Invitation here", point your mouse pointer there and click it.
Click "Download" and Tap "Enter" to start the download process.
Edit the file using Adobe Reader or Foxit Reader or any PDF editor.