Celebrate your special day with a burst of sunshine and joy by choosing our stunning tropical summer and spring sunflower-themed wedding invitation templates. Sunflowers, with their bright and cheerful disposition, are the perfect choice for couples looking to infuse their wedding with warmth and happiness.
Our collection features a variety of designs, each capturing the essence of sunflowers in a unique way. From watercolor sunflowers against a rustic wooden backdrop to sunflower wreaths adorning the corners, these templates beautifully incorporate the charm of sunflowers into your wedding invitations.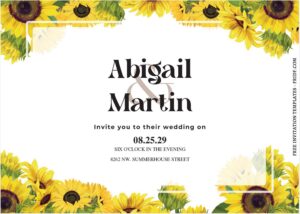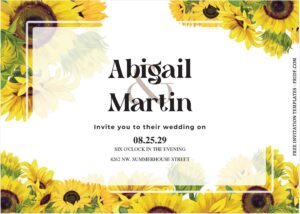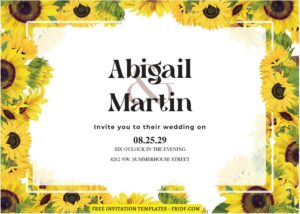 The golden hues and radiant colors of sunflowers blend seamlessly with the vibrant spirit of summer and the rejuvenation of spring. Whether you're planning a beach wedding, garden ceremony, or any outdoor celebration, these templates set the perfect tone for your big day.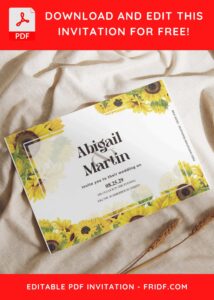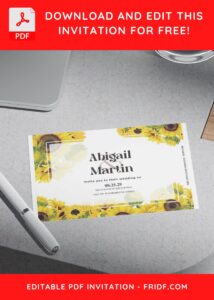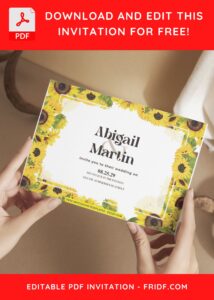 What's even more delightful is that these templates are available in PDF format, making them easy to customize with your wedding details. You can personalize the text, fonts, and colors to match your wedding theme and style.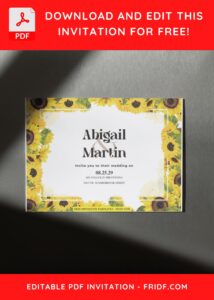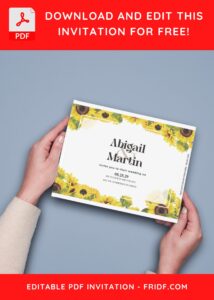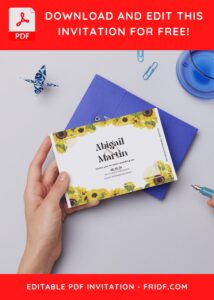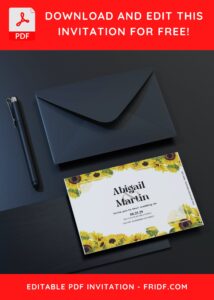 DOWNLOAD FREE EDITABLE PDF INVITATION HERE
Embrace the sunflower's timeless symbol of adoration and longevity by choosing these vibrant and heartwarming templates. Let your love bloom like a sunflower in full summer glory on your wedding day.
Have you made up your choice?
If you already had something in your mind, then the next step would be downloading our template to your device. To download our template, isn't that hard, by the way, you just need to follow this guide:
Download Information
This following instruction will show you how to download and open the template. Here they are:
Scroll-up a bit and you should see the provided link that says "Download Free … Invitation here", point your mouse pointer there and click it.
Click "Download" and Tap "Enter" to start the download process.
Edit the file using Adobe Reader or Foxit Reader or any PDF editor.
For the printing material you can use card-stock paper, it's commonly used for wedding invitation. It comes in a variety of textures, colors and thicknesses – choose which one is suitable for you. The standard print sizes of the invitation card are 5×7" and vice versa, if you want to set them in landscape orientation card.